Packers and Movers Rates list for Local House Shifting In Delhi
| Shifting Size | Labor Charge | Packing |
| --- | --- | --- |
| 1 BHK | ₹ 1,000–2,000 | ₹ 1,000–3,500 |
| 2 BHK House | ₹ 1,500–3,500 | ₹ 1,500–5,500 |
| 3 BHK House | ₹ 1,500–4,500 | ₹ 1,500–7,500 |
| 4 or 5 BHK House | ₹ 2,000–6,000 | ₹ 2,000–9,000 |
1 BHK local home shifting rates in Delhi are ₹ 3,000 to ₹ 7,000
₹ 3,000 – 7,000 for the distance up to 12 Km
₹ 4,000 – 8,000 for the distance 13 – 30 Km
₹ 6,000 – 9,000 for the distance 31+ Km
2 BHK local house shifting charges in Delhi are ₹ 4,000 to ₹ 13,000
₹ 4,000 – 8,000 for the distance up to 12 Km
₹ 5,000 – 10,000 for the distance 13 – 30 Km
₹ 7,000 – 13,000 for the distance 31+ Km
3 BHK local home shifting rates in Delhi are ₹ 5,000 to ₹ 18,000
₹ 5,000 – 14,000 for the distance up to 12 Km
₹ 6,000 – 16,000 for the distance 13 – 30 Km
₹ 8,000 – 18,000 for the distance 31+ Km
4 or 5 BHK local home shifting prices in Delhi are ₹ 8,000 to ₹ 25,000
₹ 8,000 – 16,000 for the distance up to 12 Km
₹ 10,000 – 20,000 for the distance 13 – 30 Km
₹ 13,000 – 25,000 for the distance 31+ Km
Charges for Local Office Shifting Services in Delhi
| Office Size | Up – 35 Km | 36+ Km |
| --- | --- | --- |
| Micro Office | ₹ 13,000-22,000 | ₹ 15,000 - 25,000 |
| Small Office | ₹ 23,000 - 40,000 | ₹ 25,000 - 45,000 |
| Medium | ₹ 52,000 - 80,000 | ₹ 60,000 - 90,000 |
| Standard Office | ₹ 80,000 - 1,50,000 | ₹ 90,000 - 1,70,000 |
Micro-office local shifting rates in Delhi are Rs 11,000 to Rs 25,000
₹ 11,000 - 18,000 for the distance up to 15 Km
₹ 13,000 - 22,000 for the distance 13 – 35 Km
₹ 15,000 - 25,000 for the distance 36+ Km
Small office local shifting charges in Delhi are Rs 19,000 to Rs 45,000
₹ 19,000 - 35,000 for the distance up to 15 Km
₹ 23,000 - 40,000 for the distance 13 – 35 Km
₹ 25,000 - 45,000 for the distance 36+ Km
Medium office local shifting prices in Delhi are Rs 45,000 to Rs 90,000
₹ 45,000 - 70,000 for the distance up to 15 Km
₹ 52,000 - 80,000 for the distance 13 – 35 Km
₹ 60,000 - 90,000 for the distance 36+ Km
Standard office local shifting charges in Delhi are Rs 70,000 to Rs 1,70,000
₹ 70,000 - 1,40,000 for the distance up to 15 Km
₹ 80,000 - 1,50,000 for the distance 13 – 35 Km
₹ 90,000 - 1,70,000 for the distance 36+ Km
Movers and Packers Charges from Delhi to Another City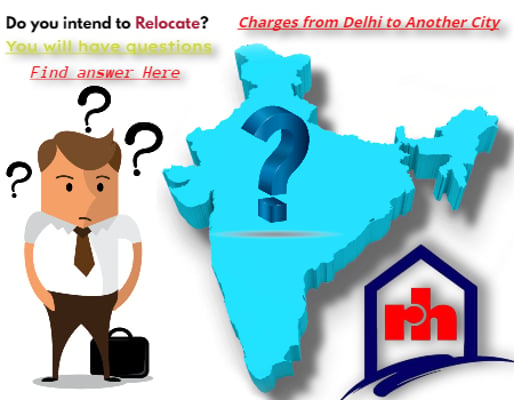 Do you intend to relocate? Do you know how much packers and movers charge from Delhi to another city? If not, you've come to the right place, and we'll assist you in determining the fees or costs. Because the packers and movers industry has been highly opaque and disjointed for centuries, it is more than a $2 billion dollar industry.
Many people today are unaware of the standard moving safety and process. There is a lack of knowledge that may cost them more stress and money than they anticipated.
Rehousing Packers are leading packers and movers in Delhi, and in the last few years, we have successfully completed many house shifting services both locally and internationally.
On a micro level, we assembled various packing quality, customer experiences, and movers work. We are sharing the data in order to calculate the packers and movers in Delhi charges, which will give you an idea of how much you should pay for professional and dependable services.
Rehousing packers evaluated various data points and selections with moving experts and identified more than ten major factors, including distance, household goods, manpower required, packing, shifting timings, physical activity for unloading and loading, insurance, vehicle type, taxes, storage, and additional services. After Moving you can Packers And Movers Bill for Claim
Charges for intercity packers and movers in Delhi
| Shifting type | Up to 30 KM | Above 31 KM |
| --- | --- | --- |
| 1 BHK House | ₹ 4,000–8,000 | ₹ 5,000–9,000 |
| 2 BHK House | ₹ 5,000–10,000 | ₹ 6,000–12,000 |
| 3 BHK House | ₹ 6,000–12,000 | ₹ 7,000–14,000 |
| 4 or 5 BHK House | ₹ 10,000–20,000 | ₹ 12,000–20,000 |