Best and Top 5 Packers and Movers In Delhi
Empire Relocation

Premium

Address :- H.No.6B, K.H. No.807/1, G.F. Block-K, Mahipalpur Extn.
South West. New Delhi-110037
About :-Empire Relocation is the excellent name among top packers and movers service providers of Delhi. Empire Relocation assures you of a complete hassle-free relocation experience


Get Free Quote Now
Rehousing Packers and Movers

Premium

Address :- Shop No. Move, 21/313, Sector 20
Rohini, New Delhi, Delhi 110085
About :-Rehousing Packers also provide valuable information about some reliable companies which provide services. We also provide services like properly packing, wrapping, boxing and tapping.


Get Free Quote Now
Gati Packers and Movers

Verified

Location :- A-102, Baba Gangnath Market, Munirka, New Delhi, Delhi 1100676
About :-You can check profile, ratings, and reviews of Gati packers and movers given by us and have used our service in recent times. So choose best packers and movers in Delhi your queries.


Get Free Quote Now
Leo Packers and Movers

Verified

Location :- Ground Floor Street no. 4 Sri Nagar Colony, Rani Bagh, Pitam Pura, Delhi, 110034
About :-Leo Packers and Movers provide world-class services to the customers of packers and movers in Delhi. Leo provides best Packing & moving services.


Get Free Quote Now
VRL Packers and Movers

Verified

Location :- Bijwasan Rd, near Railway Station, Sector 26 Dwarka, Dwarka, Delhi, 110071
About :-VRL Packers and Movers is one of the best packers and movers in India and it has been working within the trade from 1996 till now.


Get Free Quote Now
Why Rehousing Packers is the trustworthy packers and movers in Delhi and how does it work?
You can share your details, such as destination & origin, moving items, moving date, and packing & moving service quality necessary, plus the distance. You just need to call us and contact us on our Portal, within minutes you will receive 3 references from top-rated movers and movers in Delhi based on your moving necessities
We can provide you with a pre-move survey to locate packers and movers in Delhi that can quote your shifting charges. Our professional agents will provide the estimations after physical surveys of several items and provide the costs that need to be calculated
To get the deals and get a decent discount on charges, you can also talk to the highest authority of our movers and packers in Delhi
You can easily compare the moving costs quoted by moving companies in Delhi by the reviews & ratings of packers and movers in Delhi
You can make your final decision on the relocation services in Delhi if it meets your relocation needs and that too within your budget
A complete guide how to plan and arrange the move in Delhi?
You can read pre-moving tips here :-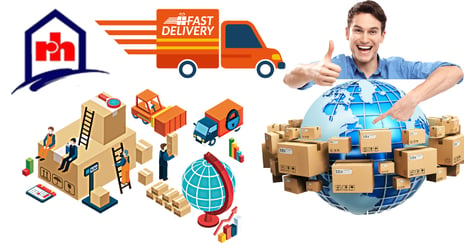 While planning to move from Delhi to another city, you must be worried how to plan it, here are some tips to do the same in easiest way :-
Begin your search for movers and packers in Delhi firms at least 10-20 days before your move so you have enough time to review the details of the packers and movers and you can choose the best one. It's also a good idea to use a reputable reference portal like Rehousing Packers to book your movers and packers in Delhi and other cities
Choose the most cost-effective day for space transferring in Delhi, such as the middle of the month (between the sixth and the 24th) or weekdays (Mon - Thu)
Make it a point to bring all of your everyday requirements in a separate overnighter with you for the first few days. Clothing, medications, children's goods, toiletries, towels, clean bedding, cleaning supplies, and so on should all be packed
Decluttering unwanted and unused family items will help reduce the amount of moving costs. Donate unuseful items to a local charity or sell them online
Before relocating, go to the new residence and give it a thorough cleaning to remove dirt, filth, and bacteria. Check the condition of the faucets, plumbing, and electrical sockets, among other things, and make any necessary repairs before the packers and movers in Delhi start the relocation process
Update your new address at necessary companies like banks, MasterCard companies, post workplace, academic establishments, insurance companies, online booking sites, magazine subscriptions, etc., to avoid missing out on crucial mail communications
Contact your utility service suppliers to induce your Water, Electricity, Internet, LPG Agency, TV Dish & Cable, etc., to disconnect, transfer, or reconnect at a second home on a selected date.
Wipe all appliances to organize them for safe moving. Melt the electric refrigerator one night before relocation and take away all the shelves
Clean physical connections before unplugging for straightforward rewiring later. Pack all the appliance & device wires into properly labelled Ziploc baggage
A brief introduction how Rehousing Packers Guarantees quality movers and packers Services in Delhi
Here are the enlisted services what our movers and packers provide?
Verified moving company :- Before collaborating with a moving company in Delhi, Rehousing Packers did online as well as in-person verification. We check entire firm paperwork from packers and movers in Delhi, such as GST, Aadhaar Card, Pan Card, workplace location evidence, and so on.
Well-organized List of PACKERS AND MOVERS company :-Rehousing Packers and movers organized lac of packing and moving services in Delhi. You'll be able to strain the appropriate Delhi Movers Packers company, supporting their Star Ratings, and Services offered Quality tags or distance from your vicinity.
Checking for Quality :- Maintenance isn't something you do once and then forget about. We at Rehousing Packers have a habit of conducting routine service quality inspections of movers and packers in Delhi based on feedback from consumers who have used our house relocation services.
We discovered our partner's packers and movers services to be of high quality, and we backed up their previous customers' feedback. We take essential steps, such as rewarding top performers with higher listing rankings or penalising low-quality movers for client losses.
We prefer to suspend or blacklist the moving company's profile if we receive serious complaints about our movers and packers in Delhi.
Prompt assistance from start to the finish of your move :- We provide complete support during your move in Delhi, from the moment you decide to use our services with us until the final delivery of your things at your desired location.
We can provide the appropriate paperwork for additional action in the event of serious problems, payment increases, product security, or legal issues.
Factors that affect the cost of interstate packers and movers in Delhi
Consider the following factors when planning your domestic relocation in Delhi and budgeting for home relocation services. The following are the primary cost-influencing factors for packers and movers in Delhi :-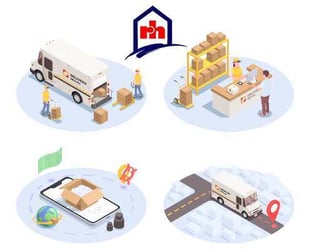 The number of household objects, as well as other costs such as more packing materials, will increase the cost of the packers and movers
The distance between the origin and destination of the relocation, as well as the costs of packers and movers, may affect whether it is for the same state or interstate services
Packing quality of packing (Premium/Economy) used by movers and packers in Delhi. If the number of fragile items increases, the materials used by moving companies must also increase
When it comes to domestic relocation, the mode of transportation or vehicle size is also a factor of cost rise. The price difference between shared and dedicated trucks in Delhi also varies
Loading and unloading things from the house to the truck is a strenuous and exhausting task
Additional charges and taxes may apply if the distance between the house and the truck is more
Additional charges and taxes may apply if the distance between the house and the vehicle is more
We have a transport fleet consisting of coated body trucks, small trucks, cargo, and instrumentality moving platform trucks, all driven by exceptionally experienced drivers with extensive knowledge of our driver about the routes and a thorough understanding of the state of Indian highways.
They maintain control of the vehicle's speed, which is the key reason for avoiding damage to household belongings. Our truck is equipped with a speed governor, which prevents the speed from being raised once it has been set.
Rehousing Packers and Movers provide Home, Office, Business move in Delhi and throughout India with.
Below are the services provided by Rehousing Packers in India
Below are the services provided by Rehousing Packers in Delhi