Why Rehousing Packers is the trustworthy packers and movers in Delhi and how does it work?
You can share your details, such as destination & origin, moving items, moving date, and packing & moving service quality necessary, plus the distance. You just need to call us and contact us on our Portal, within minutes you will receive 3 references from top-rated movers and movers in Delhi based on your moving necessities
We can provide you with a pre-move survey to locate packers and movers in Delhi that can quote your shifting charges. Our professional agents will provide the estimations after physical surveys of several items and provide the costs that need to be calculated
To get the deals and get a decent discount on charges, you can also talk to the highest authority of our movers and packers in Delhi
You can easily compare the moving costs quoted by moving companies in Delhi by the reviews & ratings of packers and movers in Delhi
You can make your final decision on the relocation services in Delhi if it meets your relocation needs and that too within your budget
A complete guide how to plan and arrange the move in Delhi?
You can read pre-moving tips here :-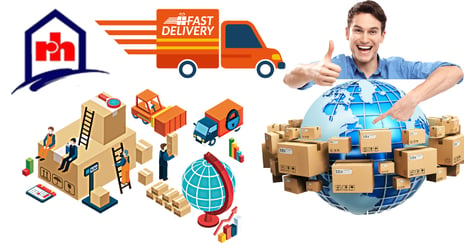 While planning to move from Delhi to another city, you must be worried how to plan it, here are some tips to do the same in easiest way :-
Begin your search for movers and packers in Delhi firms at least 10-20 days before your move so you have enough time to review the details of the packers and movers and you can choose the best one. It's also a good idea to use a reputable reference portal like Rehousing Packers to book your movers and packers in Delhi and other cities
Choose the most cost-effective day for space transferring in Delhi, such as the middle of the month (between the sixth and the 24th) or weekdays (Mon - Thu)
Make it a point to bring all of your everyday requirements in a separate overnighter with you for the first few days. Clothing, medications, children's goods, toiletries, towels, clean bedding, cleaning supplies, and so on should all be packed
Decluttering unwanted and unused family items will help reduce the amount of moving costs. Donate unuseful items to a local charity or sell them online
Before relocating, go to the new residence and give it a thorough cleaning to remove dirt, filth, and bacteria. Check the condition of the faucets, plumbing, and electrical sockets, among other things, and make any necessary repairs before the packers and movers in Delhi start the relocation process
Update your new address at necessary companies like banks, MasterCard companies, post workplace, academic establishments, insurance companies, online booking sites, magazine subscriptions, etc., to avoid missing out on crucial mail communications
Contact your utility service suppliers to induce your Water, Electricity, Internet, LPG Agency, TV Dish & Cable, etc., to disconnect, transfer, or reconnect at a second home on a selected date.
Wipe all appliances to organize them for safe moving. Melt the electric refrigerator one night before relocation and take away all the shelves
Clean physical connections before unplugging for straightforward rewiring later. Pack all the appliance & device wires into properly labelled Ziploc baggage
A brief introduction how Rehousing Packers Guarantees quality movers and packers Services in Delhi
Here are the enlisted services what our movers and packers provide?
Verified moving company :- Before collaborating with a moving company in Delhi, Rehousing Packers did online as well as in-person verification. We check entire firm paperwork from packers and movers in Delhi, such as GST, Aadhaar Card, Pan Card, workplace location evidence, and so on.
Well-organized List of PACKERS AND MOVERS company :-Rehousing Packers and movers organized lac of packing and moving services in Delhi. You'll be able to strain the appropriate Delhi Movers Packers company, supporting their Star Ratings, and Services offered Quality tags or distance from your vicinity.
Checking for Quality :- Maintenance isn't something you do once and then forget about. We at Rehousing Packers have a habit of conducting routine service quality inspections of movers and packers in Delhi based on feedback from consumers who have used our house relocation services.
We discovered our partner's packers and movers services to be of high quality, and we backed up their previous customers' feedback. We take essential steps, such as rewarding top performers with higher listing rankings or penalising low-quality movers for client losses.
We prefer to suspend or blacklist the moving company's profile if we receive serious complaints about our movers and packers in Delhi.
Prompt assistance from start to the finish of your move :- We provide complete support during your move in Delhi, from the moment you decide to use our services with us until the final delivery of your things at your desired location.
We can provide the appropriate paperwork for additional action in the event of serious problems, payment increases, product security, or legal issues.
Factors that affect the cost of interstate packers and movers in Delhi
Consider the following factors when planning your domestic relocation in Delhi and budgeting for home relocation services. The following are the primary cost-influencing factors for packers and movers in Delhi :-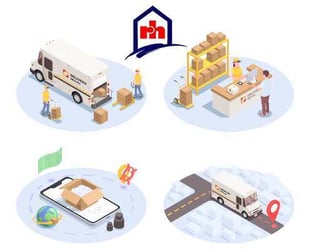 The number of household objects, as well as other costs such as more packing materials, will increase the cost of the packers and movers
The distance between the origin and destination of the relocation, as well as the costs of packers and movers, may affect whether it is for the same state or interstate services
Packing quality of packing (Premium/Economy) used by movers and packers in Delhi. If the number of fragile items increases, the materials used by moving companies must also increase
When it comes to domestic relocation, the mode of transportation or vehicle size is also a factor of cost rise. The price difference between shared and dedicated trucks in Delhi also varies
Loading and unloading things from the house to the truck is a strenuous and exhausting task
Additional charges and taxes may apply if the distance between the house and the truck is more
Additional charges and taxes may apply if the distance between the house and the vehicle is more
We have a transport fleet consisting of coated body trucks, small trucks, cargo, and instrumentality moving platform trucks, all driven by exceptionally experienced drivers with extensive knowledge of our driver about the routes and a thorough understanding of the state of Indian highways.
They maintain control of the vehicle's speed, which is the key reason for avoiding damage to household belongings. Our truck is equipped with a speed governor, which prevents the speed from being raised once it has been set.
Rehousing Packers and Movers provide Home, Office, Business move in Delhi and throughout India with.
Below are the services provided by Rehousing Packers in India
Below are the services provided by Rehousing Packers in Delhi
Frequently Asked Questions
What do I do if I do not just like the services of a relocation service I select?
If you're not happy with a household shifting services in Delhi that you just opt for, you can complain regarding them. You can conjointly give them a negative rating and share your frank opinion on why they weren't smart
How do you determine the price for Household and Home Shifting in Delhi?
The evaluation depends on the subsequent factors
Things to be Shifted:- The additional the things, the higher price. Unremarkably the transporter can charge you for a full truckload through the things to be shifted. Hence, it's necessary to speak to the transporter 1st and conclude the truck's load that is used for transportation
Distance to be Covered:- The additional space, the higher the price
Day of Shifting:- Like several businesses, the house Shifting business conjointly has its peak and low seasons. In the high season (Feb - July), the charge will be higher than off-peak season rates
Should we book different companies for packing and moving in Delhi separately or one company for both?
It's effectively suggested to travel with just one company for each room shifting services in Delhi
This is often to make sure 100% the responsibility of that company in transporting your merchandise safely. With totally different firms for packing and moving, just in case of any breakage throughout transportation, none of the businesses can take responsibility for the harm.
Are there any circumstances that could cause a delay in my delivery in Delhi?
Whereas all machine professional Packers Movers Delhi attempt their best to stay to the schedule they mentioned, however just in case of uncontrollable circumstances, if there's any delay, then an organization official can get to bear with you.
Do You facilitate With The Claim Settlements just if the products are broken throughout packaged and Moving?
Movers and Packers in Delhi can facilitate the shopper with the claims if the shopper has all the full project's mandatory details. Movers and Packers Delhi will decide the number or the kind of settlement once inspecting the entire situation of the deal
What should I know to rent Packers And Movers in Delhi?
You should ensure the credentials of the business, and also, they are legal and licensed. Gather the maximum amount of data a few movers and packers via contacting them or looking out on the net.
How should I believe we are going to get satisfactory services at the destination of deportation?
Rehousing Packers and Movers is a well established PAN India company, having many operative branches at key locations and cities. We tend to have significant fashionable transport carriers, shifting/transporting equipment, unrestricted sturdy packing, well-trained personnel and the least bit branches. We tend to observe complete safety measures and have correct means, techniques and information to handle virtually everything from a small piece of a pin to the significant machinery.
What kind of packing material is going to be used in Delhi?
Our packers and movers in Delhi use tested wadding to ensure a high degree of protection for your precious merchandise. We tend to use top quality wadding like cartons, bubble wraps, furrowed sheets et al.. Our team conjointly reviews these materials frequently and is concerned in analysis to form additional economic packing strategies. Our years of expertise have instructed that there's no substitute for care.
What if I need to cancel my booking?
The booking is often off anytime up to 48 hours before the packing date. We will refund you the booking quantity less the payment entree charges and the other bank or group action charges (at three-d and GST) at intervals of 15 working days via the first mode of payment (if applicable) IMPS. Any cancellation post may result in forfeiting of the sooner booking quantity paid.
The Cities are given below in which we provide daily basis services
Car And Bike Transport Services by Rehousing Packers
Packers and movers from Delhi to other cities services